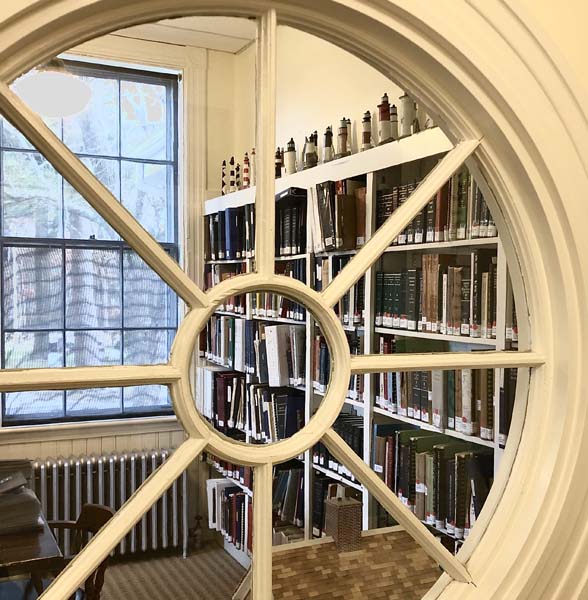 News from the Schoolhouse
October, 2021
Dear Friends,
After a long, long year (and a half) for us all, we are so happy to reopen our doors again!  It has been wonderful to see old friends and to introduce ourselves to new ones.
Judging from the enthusiasm of our visitors at our Open Houses this summer and fall and from the number of research inquiries that our archivist and team are fielding now, people are excited to be making connections again – with each other and with this great town.  So welcome back!
There is a lot going on at the Historical Society as we move into fall. If you have not been to the Schoolhouse recently, do stop by. Some treasures from the Collections that have never been shown to the public before are now on display – such as the colonial-era Tilden Chest, a Thomas Buford Meteyard watercolor, and two stunning displays of late 19th century dresses. The mannequins have been exquisitely dressed by expert textile conservator and archive volunteer, Marie Schlag. One of the dresses is Sally Bailey Brown's graduation dress from Scituate High School! And be sure and see the impressive cash register from the old Welch Company, now holding court at the Book Store.
The big news from the Maritime & Irish Mossing Museum is its acceptance as a member museum into the Council of American Maritime Museums (CAMM)! The Council is made up of selective institutions which promote, preserve, and interpret North America's maritime heritage. Being recognized as a member museum of CAMM is a huge achievement and honor for the Society – placing us in the company of institutions such as Peabody Essex Museum, Nantucket Whaling Museum, Mystic Seaport, Maine Maritime Museum, and others nationally.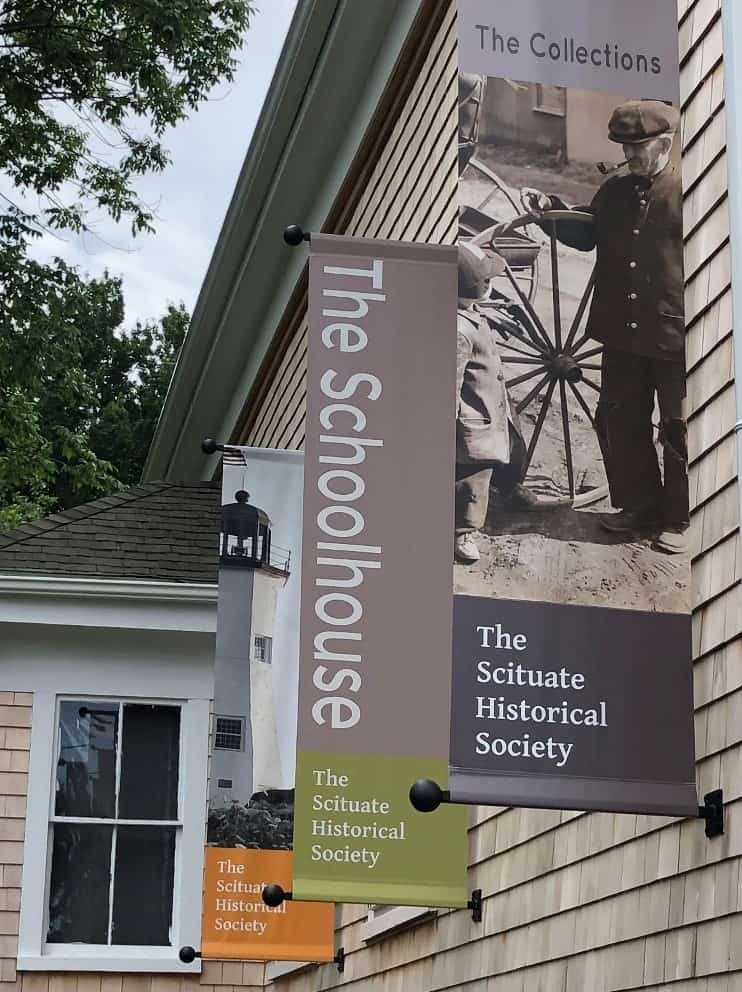 This is a big deal for our museum, as well as a big deal for new or renewing members of the Scituate Historical Society. Starting this fall, a new benefit for Society Patron Members (which begin at $100) will be reciprocal admission membership in CAMM. This gives our Patron Members free admission to any CAMM member museum. Be certain to check out "Become a Member" on the Join and Give page to become a Patron, support our work, and begin planning some terrific outings this coming year. Thank you!
And finally, a whole new season of terrific ZOOM programs, "The G.A.R. Goes Virtual", is being assembled by Jean D., our Program Director. This series – for which the Society received a MA Cultural Council grant – spotlights a diverse and provocative range of topics, authors, and artists. Keep an eye open for our latest programs in Upcoming Events!
So, once again, WELCOME BACK! We hope you enjoy our brand-new website. Here's to making new discoveries together!
With best wishes,
Trustees of the Scituate Historical Society