Bill of Sale for Fillis, an Enslaved Girl, from Seth Turner to David Stockbridge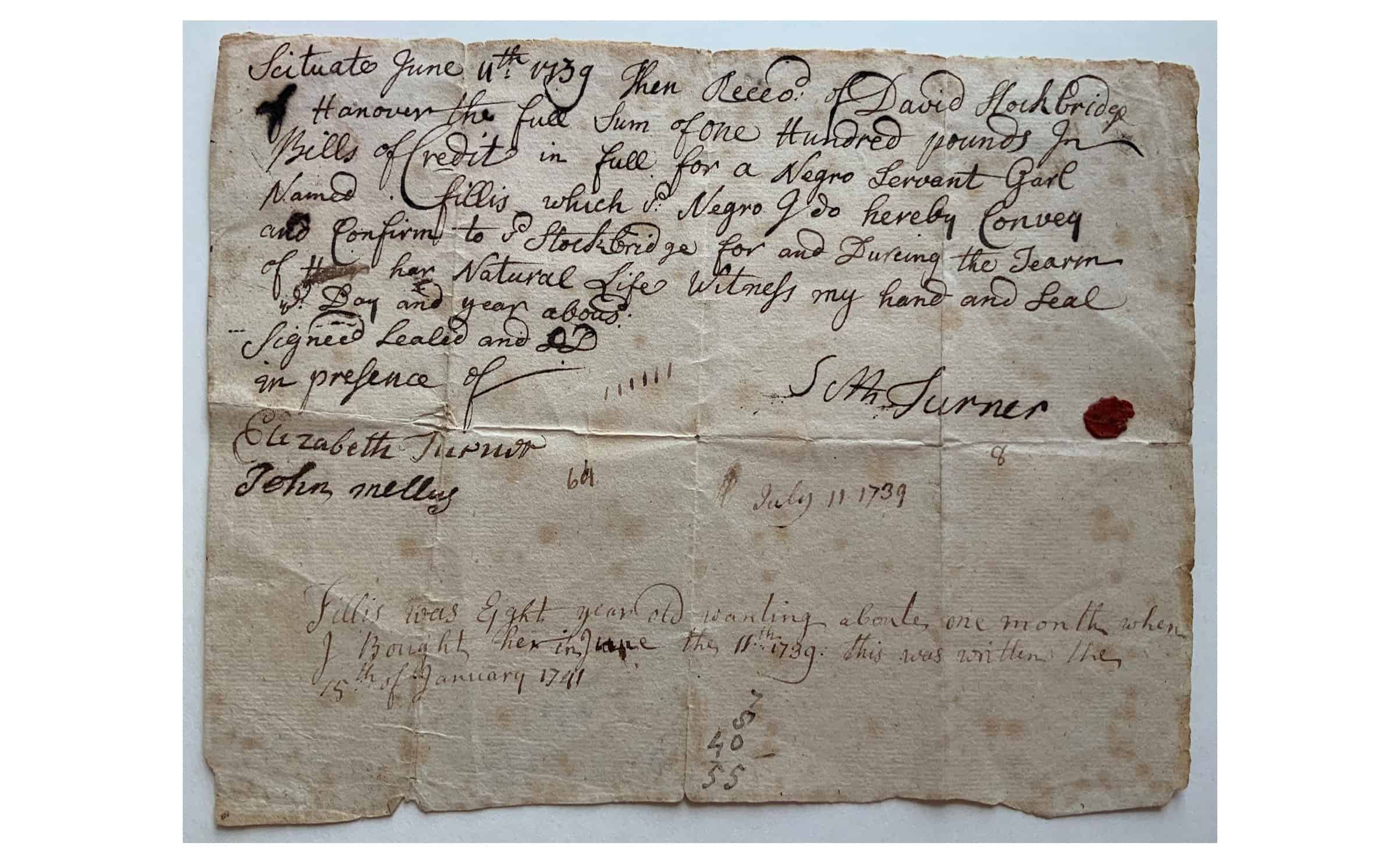 11 June 1739
Ink on paper
Gift of Meredith Maddry
Dims: H 6 ¼" x W 7 ½"
2021.021
Many people are unaware of the history of slavery in the northeast. While not as pervasive as in the southern colonies, New England was not immune to the presence and exploitation of enslaved individuals. Massachusetts became the first North American colony to recognize slavery as a legal institution in the 1641 statue called the Massachusetts Body of Liberties. In Scituate during the 1700s, slavery mirrored the broader context of slavery in colonial New England. Under the system of chattel slavery, enslaved people were treated as legal possessions, devoid of basic human rights and autonomy. They could be inherited, owned, and regarded as personal property by their enslavers. Transactions involving enslaved individuals were completed with regular bills of sale, which were witnessed, signed, and often recorded, resembling any other conveyance of property.
This document records the sale of "a negro servant garl Fillis" from Seth Turner of Scituate to David Stockbridge of Hanover in 1739 for the "tearm of her Natural Life."
The full text of the document reads:
Scituate June 11th1739 Then recev'd of David Stockbridge
of Hanover the full Sum of One Hundred pounds for
Bills of Credit in full for a Negro Servant Garl
Named fillis [Phillis] which said Negro I do hereby Convey
and Confirm to said Stockbridge for and During the Tearm
of her Natural Life Witness of my hand and Seal
said Day and year above [?]
Signed Sealed and DD Seth Turner
In presence of
Elizabeth Turnor
John melley July 11 1739
Fillis was Eight year old wanting about one month when
I Bought her in June the 11th 1739. This was written
the 15th of January 1741
The first mention of Phillis can be found in the birth records of the Vital Records of Scituate Massachusetts to the Year 1850 under the section "NEGROES, ETC." a Colonel Turner had Phillis baptized: "Phillis, "negro Servt child of Col Turner," bp. June 8, 1735. C.R.I."
"C.R.I." stands for data coming from the records of the First Parish Church in Scituate.
Just 3 weeks earlier, on 13 May 1735, under the ministry of Reverend Shearjashub Bourne, the church voted that "servant children may be baptized upon the faith of their master or overseer." (Stower, Richard M., A History of the First Parish Church of Scituate, Massachusetts: Its Life and Times, p131).
The Colonel referred to is Colonel Amos Turner Esq, a grandson of Humphrey Turner, one of the first settlers in Scituate in 1628. Amos Turner was born on 4 June 1671 to John and Mary (Brewster) Turner. He married Mary Hiland on 6 April 1695, and they had several children. Mary preceded her husband in death on 5 Nov 1729. Colonel Turner died on 13 April 1739, and both are buried in the Men of Kent cemetery in Scituate, MA.
In his will, Colonel Turner bequeaths to his daughter Lydia "a bed and furniture to the value of fifty pounds…. Also, I give her my Negro girl named Phillis and the liberty of living at my now dwelling place until she [is] married."
Lydia did not own Phillis or execute her right to live at home for long, as she married Dr. Joseph Withrall of Taunton soon after her father's death on 13 May 1739, at First Parish Church in Scituate.
As property of the estate, Phillis' fate remained the executors' responsibility and they decided to sell her. The seller, Seth Turner, was a son of Colonel Turner and a coexecutor of his father's estate. The buyer, David Stockbridge of Hanover, was likely known to the Turners as the Stockbridge and Turner families had intermarried over three generations. Both families were well-to-do and well-respected. David Stockbridge owned large tracts of land and was politically active.
While we lack a concrete record of Phillis in Hanover, there's evidence from the 1754 Slave Census showing that David Stockbridge had a 23-year-old enslaved female in his household, which matches Phillis's age. The turning point in ending slavery in Massachusetts came with the pivotal Supreme Court case of Quock Walker, presided over by Chief Justice William Cushing of Scituate, but it wasn't heard until 1783 when Phillis would have been around 52 years old. To learn more about slavery in Scituate please see the work of Pattie Hainer Slaves, Servants, and Free People of Color in Scituate-Norwell, Massachusetts: 1635-1875, below.
Sources:
Hardesty, Jared Ross. Black Lives, Native Lands, White Worlds: A History of Slavery in New England, Bright Leaf, University of Massachusetts Press, 2019.
Triber, Jayne. Slavery and Law in 17th Century Massachusetts. National Park Service, accessed July 2023.  Slavery and Law in 17th Century Massachusetts (U.S. National Park Service) (nps.gov)
This Scituate Historical Society Collections Highlight connects with the following Massachusetts State Curriculum Frameworks:
History and Social Science Framework
Grade 3: Massachusetts, Home to Many Different People
Topic 5: The Puritans, the Massachusetts Bay Colony, Native Peoples, and Africans.
HSS.3.T5.04 Explain that in the 17th and 18th century slavery was legal in all the French, Dutch, and Spanish, and English colonies, including Massachusetts and that colonial Massachusetts had both free and enslaved Africans in its population.
Grade 5: United States History to the Civil War and the Modern Civil Rights Movement
Topic 1: Early colonization and growth of colonies.
HSS.5.T1.05 Describe the origins of slavery, its legal status in all the colonies through the 18th century, and the prevalence of slave ownership, including by many of the country's early leaders (e.g., George Washington, Thomas Jefferson, James Madison, George Mason.)
HSS.5.T1.07 Compare and contrast the living and working conditions of enslaved and free Africans in the colonies in the 18th century, and explain how some enslaved people sought their freedom.
a. Enslaved African Americans were property that could be bought, sold, and separated from their families by their owners; they were generally not taught to read or write, and generally owned no property; they suffered many kinds of abuse and could be punished if they were caught after running away from their masters. A number of slave rebellions resulted from these harsh conditions.
c. Some Africans came to America as indentured servants or sailors and were freed when their service was completed; some former slaves were granted freedom and some in the North took legal action to obtain their freedom (e.g., in Massachusetts, Elizabeth Freeman, Quock Walker, and Prince Hall).
d. States in the North adopted gradual emancipation (for example, Massachusetts outlawed slavery in 1783 and no enslaved people appear in the 1790 Massachusetts census); free African Americans could have families, own property, hold jobs, and earn a living. Topic 5: Slavery, the legacy of the Civil War, and the struggle for civil rights for all.
HSS.5.T5.01 Trace the state-by-state abolition of slavery in the Northern states in the 18th and 19th centuries and the expansion of slavery into western states; explain the effects of the 1808 law that banned the importation of slaves into the United States and explain how a robust slave trade nonetheless continued within the United States until the mid-19th century
History and Social Science | United States History
Topic 1: Origins of the Revolution and the Constitution
HSS.USI.T1.08 Describe the Constitutional Convention, the roles of specific individuals (e.g. Benjamin Franklin, Alexander Hamilton, James Madison, George Washington, Roger Sherman, Edmund Randolph), and the conflicts and compromises (e.g., compromises over representation, slavery, the executive branch, and ratification).