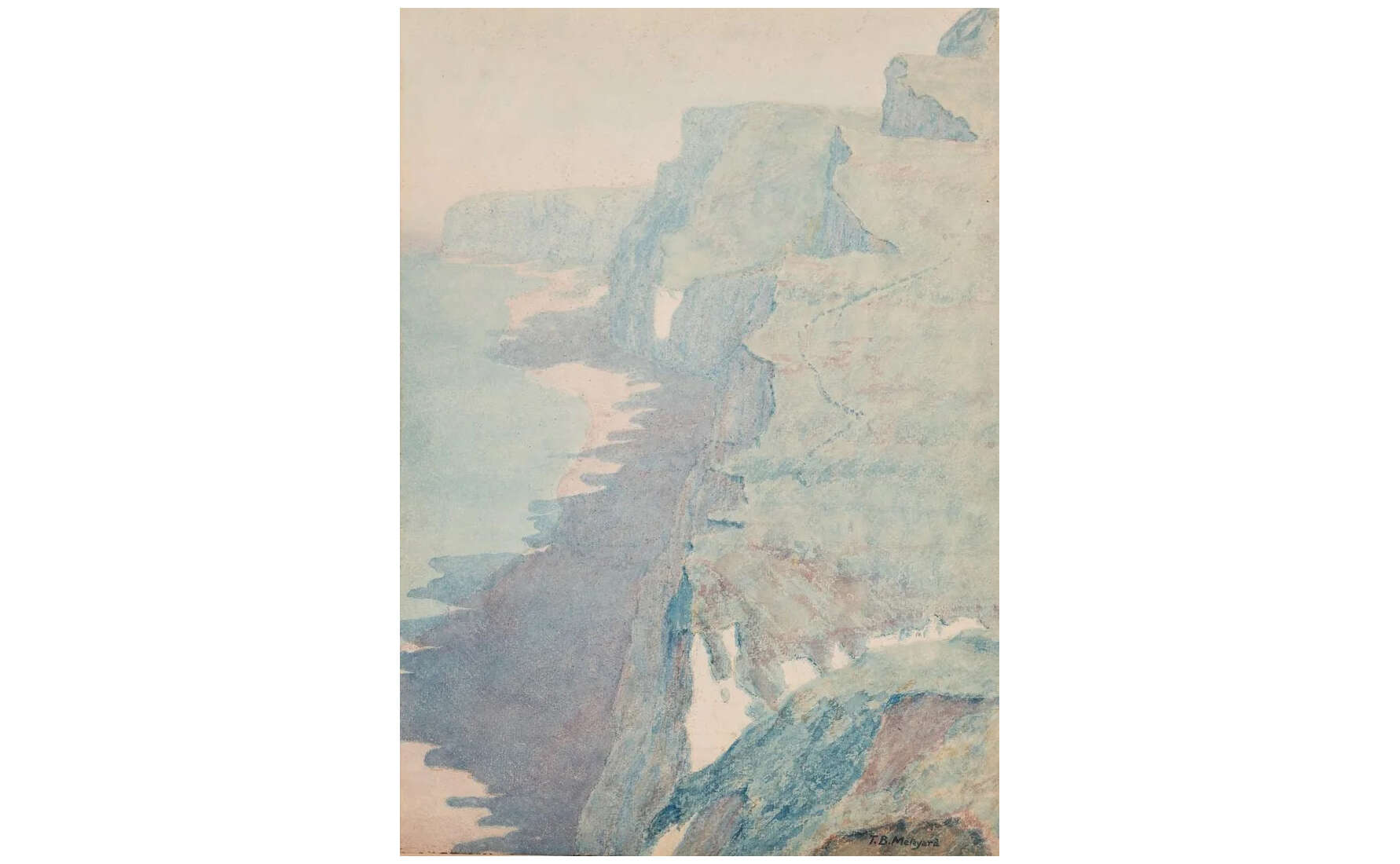 Thomas B. Meteyard (1865-1928)
Untitled (Coastline)
Gift of Annie Lincoln Tilden
Watercolor on wove paper
Dims: H 14 ⅝" x W 10 ½"
2017.032
Thomas Buford Meteyard was a painter and illustrator who was at the center of a group of local artists often referred to as the Scituate Artist Colony, which was active from the 1890s through 1910s. Meteyard was born on November 12, 1865 in Rock Island, Illinois. His father, Captain Thomas C. Meteyard, died in 1868 as a result of injuries sustained in the Civil War. Meteyard's mother, Marion Greenwood Meteyard, was originally from Massachusetts, the daughter of George Lunt, a United States District Attorney and editor of the Boston Courier. Lunt and his wife had settled in Scituate in 1860, later joined by Lunt's brother-in-law, Dr. Thomas Parsons, a noted poet and Dante scholar. Thomas Meteyard attended Phillips Academy in Andover and traveled through Europe with his mother before enrolling at Harvard University in 1885, where he studied with Charles Eliot Norton and William James. While at Harvard, Meteyard forged friendships with like-minded writers and artists such as Bliss Carman, William Morton Fullerton and Richard Hovey that would continue throughout his artistic career. During this period he also met the sculptor Cyrus Dallin, then studying at the School of the Museum of Fine Arts in Boston, whom the Scituate Historical Society would later commission to complete the Chief Justice Cushing Memorial Plaque in 1919.
Thomas and Marion Meteyard returned to Europe in 1888. In England, the Meteyard's socialized with leaders of the Aesthetic Movement, which espoused "Art for Art's Sake," such as Oscar Wilde and Edward Burne Jones, the Pre-Raphaelite painter and friend of Meteyard's former professor Charles Eliot Norton. From London, Meteyard traveled to Paris in December, 1888, where he studied with Leon Bonnat, who taught at the Ecole Des Beaux Arts, as well as Alfred Philippe Roll and Puvis de Chavannes. By the autumn of 1889, Meteyard was in touch with several American artists working in Paris, including Cyrus Dallin, as well as Boston painters Philip Hale, Theodore Robinson, and John Leslie Breck, who had been working in Giverny, inspired by impressionist Claude Monet who had established himself there a few years earlier. That summer, Meteyard joined the American painters at Giverny. In May of 1892, the colony of American painters and writers at Giverny produced the first volume of a hand-printed, illustrated journal entitled Le Courrier Innocent, edited by painter Dawson Dawson-Watson and with contributions by founding members Meteyard, Philip Hale, John Leslie Breck, and Stirling Dyce. Among the American painters that Meteyard likely knew during his time at Giverny were Scituate painter Josephine Miles Lewis and her sister, Matilda, who boarded at the well-known Hotel Baudy, a favorite among the visiting artists, during the summer of 1892 and several subsequent years. Meteyard's Giverny paintings were accepted for exhibition at the 1893 World's Columbian Exposition in Chicago.
By 1893, Thomas and Marion Meteyard had returned to America, establishing a home in Scituate where they had previously summered with Marion's father and uncle. With his reputation as a painter well-established during his time in Europe, Meteyard's graphic design work began to expand upon his return to the Boston area. In 1894, he was commissioned to design the cover of Robert Louis Stevenson's adventure novel, The Ebb Tide. According to Nicholas Kilmer's Thomas Buford Meteyard: A Biography, the original image from which the Ebb Tide cover derives was a watercolor of Scituate bay with overhanging pine branches. While continuing to paint and exhibit, Meteyard also began collaborating with friends from his Harvard days, Richard Hovey and Bliss Carman, on an illustrated journal of poetry in the Arts and Crafts style, called Songs from Vagabondia.
Thomas and Marion Meteyard's home on Meetinghouse Lane in Scituate, called Testudo (or tortoiseshell) became the gathering place for their prolific and gifted circle of artists, writers and publishers, with continued collaboration on hand-printed issues of The Courrier Innocent. Meanwhile, Meteyard exhibited at the Keppel gallery in Chicago, the New York Watercolor Club, the Art Institute of Chicago, and the Boston Art Club, among others. In 1904, Meteyard exhibited at the St. Louis World's Fair exhibition. In 1906, Thomas and Marion returned to Europe, which would become a permanent relocation after Thomas married Isabel Montague Barber, and settled in England, along with Marion. Thomas and Isabel's only child, Robert, was born in 1912. Marion died in June, 1915. Shortly thereafter, Thomas learned that their home in Scituate had burned to the ground. The poet Bliss Carman immortalized Testudo and the artist colony that gathered there in his poem, "Winter at Tortoise Shell," in the volume, A Winter Holiday, published in 1899: "The walls are hung with tapestries/Of gold flowers bending to the breeze/And paintings, drenched in light and sun,/ Of Scituate shore and Norman town—/A mute, unfading fairyland,/The glad work of a wizard hand, —/A small bright summer world of art/The winter cherishes at heart." Throughout the remainder of his life, Meteyard continued to paint and exhibit at his home at Moses Hill Farm and during his travels in Europe. He died on March 17, 1928 while traveling in Switzerland.
The Scituate Historical Society's untitled Meteyard watercolor of a rocky coastline is characteristic of Meteyard's rhythmic interpretation of the space where land meets sea. In it, we may see the Impressionist's interest in observing nature at a given moment developed during his time in Giverny, as Meteyard capture's the cliffs casting their shadow over the shoreline. At the same time, Meteyard's interest in the Aesthetic movement, with its influence of Japanese printmaking, may be seen in the broad areas of flat color that depict the planes of the land and sea. With its muted, yet light infused palette, the ultimate vision is uniquely Thomas B. Meteyard's, undoubtedly shaped by his years on the Scituate coast.
Sources:
Bourguignon, Katherine M., ed. Impressionist Giverny: A Colony of Artists, 1885-1915. Terra Foundation for American Art, Musée d'Art Américain, Giverny. University of Chicago Press, 2007.
Dearinger, David B. Thomas Buford Meteyard (1865-1928): Travels through Impressionism. Boston Athenaeum, Boston, Massachusetts, 2017.
Finlay, Nancy. 1990. The Graphic Art of Thomas Buford Meteyard. Harvard Library Bulletin 1 (2), Summer 1990: 50-66.
Kilmer, Nicholas. Thomas Buford Meteyard: A Biography. Thomas Buford Meteyard: Paintings and Watercolors (Exhibition Catalog). Berry-Hill Galleries, Inc., New York, New York, 1989.
This Scituate Historical Society Collections Highlight connects with the following Massachusetts State Curriculum Frameworks:
Visual Arts Responding
5-6.V.R.07 Perceive and analyze artistic work. Analyze how an artwork's form (e.g., portrait, sculpture, installation, textile art) compares and contrasts with others of the same type or period.
5-6.V.Co.11 Relate artistic ideas and works to societal, cultural and historical contexts to deepen understanding. Identify influential works of art from different periods and their impact on the artistic world.
7-8.V.R.07 Perceive and analyze artistic work. Analyze elements of a work that are indicative of the historical or cultural context in which it was created.
7-8.V.R.08 Interpret intent and meaning in artistic work. Explain how an artistic work was influenced by the culture or historical context in which it was created.
7-8.V.R.11 Relate artistic ideas and works to societal, cultural and historical contexts to deepen understanding. Identify visual ideas from a variety of cultures connected to different historical populations.
P.V.R.08 Interpret intent and meaning in artistic work. Compare and contrast the artistic elements that make art unique (e.g., compare and contrast how contemporary installation art is different from contemporary realistic portraits).
A.V.Co.10 Synthesize and relate knowledge and personal experiences to make art. Explain the development of a personal aesthetic vision as a visual artist and how it is represented in a specific piece or collection.
A.V.Co.11 Relate artistic ideas and works to societal, cultural and historical contexts to deepen understanding. Identify the historical and cultural contexts that caused shifting of stylistic elements between artistic movements.