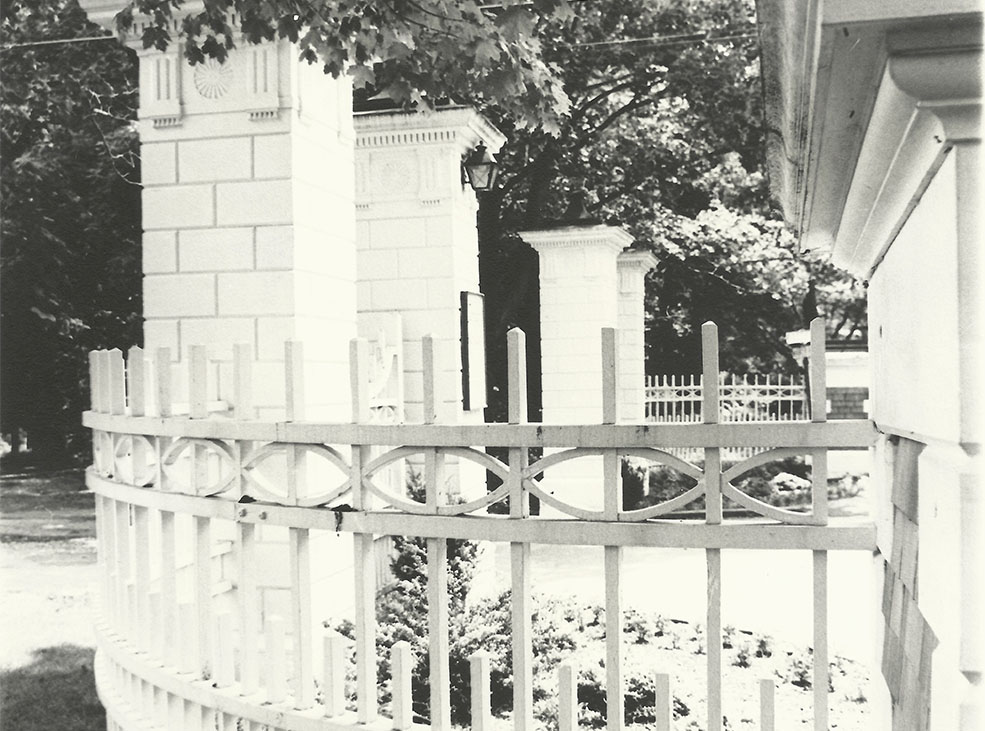 Across the street from the Scituate Town Library.  Available to the public daily.
I did not build Dreamwold in Scituate because of anything Scituate's people had which I wanted, but simply that I might share with them those things which are so plentiful in their town…. That the green of the ocean was a shade greener and its white caps a mite whiter off Scituate's coast than in any other beautiful place of nature.
It is written that in the late 19th century, while driving through the haze of a late summer afternoon, Jeannie and Thomas Lawson came to a huge roll of landscape. Part pasture land, part rocky waste, and part scrub woods, the tract rolled towards a view of the ocean below. Jeannie recognized that Scituate would be a wonderful place for their summer home.
Now one of the richest men in America, Thomas Lawson acted upon his wife's wishes and began buying land in Scituate, ultimately owning nearly 1,000 acres. This rugged piece of land would become much more than just a summer home. It was to become Dreamwold – a magnificent farm the likes of which the South Shore had never seen. Thomas William Lawson (1857-1925) was born in Charlestown, Massachusetts. As a young man he become a clerk in a Boston bank, and soon began speculating in stocks. He made his first million before he was 21. Lawson specialized in shares of copper-mining companies, which were then a staple of the Boston stock market, and became known as the "Copper King" when he successfully "cornered" the copper market.
Lawson hired the architectural firm Coolidge & Carlson, a newly formed a partnership between MIT graduates J. Randolph Coolidge, Jr. and Harry J. Carlson, to design his vision. Construction soon began and, in just 2 years, Dreamwold became a reality! It was one of the most famous country estates in the United States, widely covered in the media.
Through his love for horses, dogs, flowers, and boats, he proved to the world the truth behind writer Maurice Baldwin's words: Aladdin's lamp would be a poor substitute for Mr. Thomas W. Lawson's checkbook.
Dreamwold is an enchanted fairyland, the creation of a man's genius, pluck, and indomitable persistence. He took a piece of bleakest New England covered with stones and rocks and literally made it over to his purpose. This he transformed into a paradise. E.C. Lincoln, National Sportsman, 1902
Dreamwold included a sprawling family home with acres of gardens. The farm was replete with world-class pedigrees and housing to suit their specific needs. There were different stables for the multiple breeds of horses, a riding academy, and a race track; stock barns; dog kennels; poultry and bantam houses and a dovecote for the show birds; and support buildings such as a blacksmith shop, post office, fire house, gatehouse, and employee housing.
Lawson commissioned sought-after Boston photographer T. (Thomas) E. Marr to document the grand estate. Some volumes of beautiful black and white photographs were produced, several of which are in the Society's collections.  For more information and images of the estate, please check out Collection Highlights Dreamwold, the Farm of Thomas W. Lawson and The Lawson Collection, Vol 7.
Dreamwold Farm had 14 miles of a distinctive white wooden crossbuck post and rail fencing. Every other post of this fencing was planted with a pink rambler rose called 'Dorothy Perkins' (introduced in 1901 in the U.S.), which were allowed to grow freely.
Giving entrance to the estate were three elaborate gates – each one different but harmonious with the others. Each gate had 4 – 6 large posts with decorative carvings and elegant white picket fencing and wrought iron hinges. The posts were capped with finials or wrought iron lighting. The main entrance gates, previously located at what is now Lawson Road (at the juncture of Curtis Street and Captain Peirce Road) had an ornate arch of wrought iron with a lantern. The other entrances were at the corner of Branch Street and Bossy Lane and the corner of Beaver Dam Road and Lawson Road.  Lawson was known for the elaborate decorations festooning these gates upon the marriages of each of his daughters. Only the gates at Branch Street survive as an historic site managed by the Scituate Historical Society.
During his long and at times tempestuous career, Thomas W. Lawson found ways to alienate much of the financial world, especially through his book Frenzied Finance, published in 1905 – an insider's look at Wall Street. At the height of his success, Lawson's worth was approximately $60 million. Tragically, his fabled financial career ultimately disintegrated, culminating in the selling off of his magnificent farm to pay $225,000 in debt. Lawson died nearly penniless on February 8, 1925.
For a brief quarter of a century, Thomas Lawson affected the lives of everyone in Scituate. He boldly and brilliantly left behind a legacy of landmarks that hold people in amazement to this day.