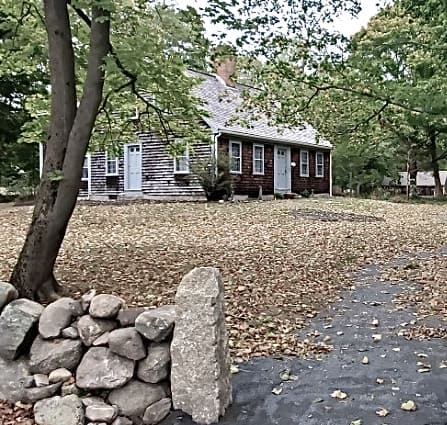 108 Greenfield Lane, Scituate
This historic home is open to the public on the Society's Open House dates, posted each year. The grounds and the adjoining Wildflower Garden trails are open daily.
No family in town has had a more romantic, provocative, mysterious, and controversial history than this branch, which chose to remain in the town of their ancestor, Richard.
Miss Margo Sylvester
Mann House Museum co-donor
The Mann Farmhouse is extraordinary.
This proud house spans three centuries and sheltered one family for over two hundred years. Cellar stones were laid in the late 1600's. The main house was rebuilt in 1749 and the ell was added, according to a dated beam, in 1825.
Seven generations of the Mann family lived in Scituate… five generations lived in this house. A little poem – found in Ilda Mann's Derby Academy sketchbook – captures how much the Mann Family cherished this home.
Great grandfather who built our house so fine
These many years ago
With God's wondrous wood of our own pine
And hand cut timbers laid just so.
Ah, could he know our house would stay
So long upon its hand cut stone, quite unaware
That with the ending of each short day
We'd thank him for this dear house we share.
About the Mann House Museum
That the Mann family saved everything is an understatement. The result is a remarkable record of one Yankee family – from the arrival of colonial settler Richard Mann in 1640 to the death of Percy Thomas Mann in 1968.
Each generation of Mann's respectfully and dutifully preserved their ancestors' possessions. Sea captains, ministers, sailmakers, carpenters, farmers, beekeepers, shoe makers, fishermen, teachers, and soldiers are all represented here. Many of the belongings date back to Pilgrim days and have never left Scituate…nor this house.
Visitors will see primitive furniture, shoe-making and sail-making tools, children's toys, textiles, fine art, early farming equipment and rare documents and books. Today, this collection constitutes one of the most valuable, varied, and authentic representations of early American life in the country.
Other points of interest can be found strolling the homestead grounds…
After Percy Mann had a run-in with the town's officials in the 1920's, he decided that, rather than pay vehicle registration fees, driver's license fees, and car insurance, he would just drive his Buick touring car into the back yard, park it, and never drive it again. Over the course of time, a tree grew up through the middle of the car, which remains where Percy left it almost a century ago!
At the eastern end of the land is the final resting spot of Zebbie, Percy's beloved horse and faithful companion. Neighbors continued to care for Zebbie long after Percy passed. When the Mann House opened to the public, Zebbie became a star attraction. Most days, she was seen grazing peacefully on the front lawn. It was decided that Zebbie should be buried where she lay. A large field stone was inscribed and placed at Zebbie's grave by the Scituate Historical Society.
Be certain not to miss the replica barn, built by local students in the 1970's, which contains a remarkable collection of ancient farm tools and equipment. And definitely save time for the Scituate Garden Club's Wildflower Garden…
The Mann House Museum continues to have many stories to tell and many secrets to keep. Thank you to the townspeople of Scituate and funding from the Community Preservation Act for the support in preserving this intriguing site.