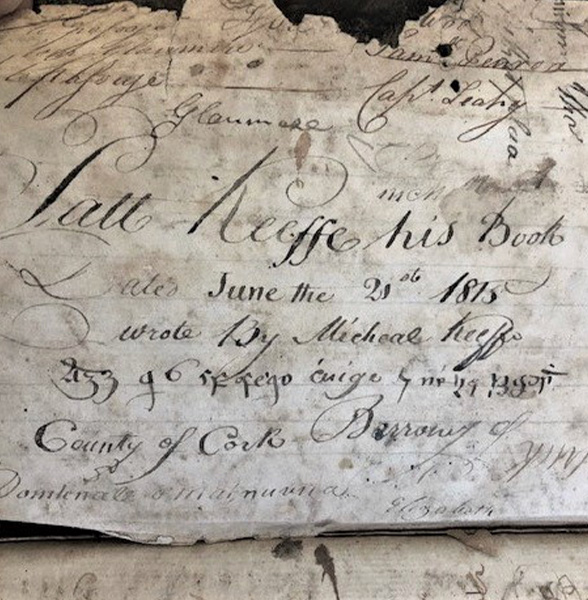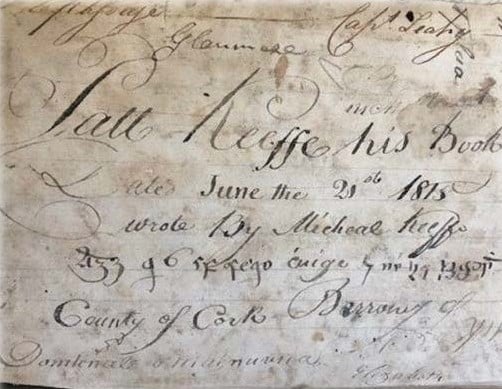 A query from Dr. Eilís Lyons, a lecturer in Gaelic at Mary Immaculate College, University of Limerick, Ireland, brought to my attention a very interesting artifact in the Society's collection. Dr. Lyons found an entry in a Guide to Irish Manuscripts published by Prof Pádraig de Brún in 1988 called 'Treoirliosta' and the entry (p. 34) just said: 'SCITUATE, Massachusetts: Scituate Historical Society 1 Ms' (manuscript). Dr. Lyons said there is no translation or microfilm of this manuscript in Ireland and she contacted me in the hope that we had one. Unfortunately, we do not, but we are working on it.
The manuscript is a small (5 ¼" x 8 ¼") 78-page leather-bound journal that was kept by a man named Patrick O'Keeffe. Entries are made in English and old Irish and the first page gives us a date and location: "Patt Keeffe his book …June the 21st 1815… County of Cork." It appears that this journal was kept solely for personal use and for a variety of purposes.
Many pages have names of people, transcriptions of poems and works about Irish history and saints, some translated into English with comments in old Irish inserted. Often there is elaborate script and decorations on the pages.
O'Keeffe also mentions some places that gave Dr. Lyons some clues to a location: "Johnstown" and "Fermoy." According to the General Alphabetical Index of the Townlands and Towns, Parishes and Baronies of Ireland (first published in 1861) there are 3 places in County Cork by the name of 'Johnstown' and they are located near Middleton, Mitchelstown and Dunmanway. Given that the placename, 'Fermoy', also occurs Dr. Lyons suggests it was the Johnstown near Mitchelstown, since Mitchelstown and Fermoy are very near to each other geographically.
About halfway through the book there is a shift to mathematical and scientific questions. Using both Irish and English, O'Keeffe works on something resembling a perpetual calendar and
writes out formulas and charts for determining leap years and the future dates that Easter will fall on.
Later entries shift to work records: accounts of money due, services rendered, and many related to shoes being made or mended. On page 55 there is a note in English and Irish "Boston, February 20th, 1847." Can we surmise that Patrick brought his book with him when he emigrated to Boston and that this accounts for this entry?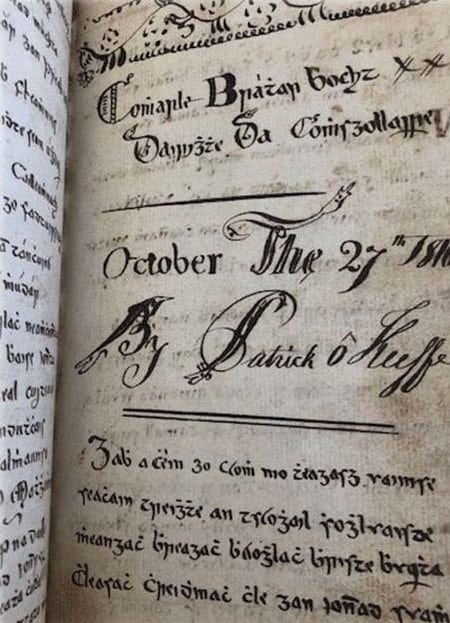 The Boston Irish News published an article written by George E. Ryan in March 1987 entitled "The Mysterious Notebook of Patrick O'Keeffe." Ryan lived in Scituate from 1959 until his death in 2000. He was a recipient of the Gold Medal award from The Eire Society of Boston and was a former senior editor of The Pilot newspaper in Boston. Ryan, although he does not read Irish/Gaelic, studied the journal after seeing it at the Scituate Historical Society and writes very engagingly about its contents; his research found that Boston directories list a 'Patrick O'Keeffe, shoemaker', living at various addresses in Boston from 1843 – 1853, lending credence to the idea of O'Keeffe's migration. Charlie Cook, a volunteer with the Archives, is currently conducting genealogical research on Patrick O'Keeffe to see what more we can learn.
The provenance of this journal is unknown currently. Many of the early Irish people to settle in Scituate in the mid-1800's had come for the Irish mossing industry started by Daniel Ward. However, they were from the north of Ireland, namely Coleraine and Ballymena, according to the book Irish Mossers and Scituate Harbour Village by Barbara Murphy. While Patrick O'Keeffe appears to be from County Cork, which is in southern Ireland, perhaps he had relatives or friends who came to Scituate.
We were very fortunate to have Irish scholar Brian Frykenberg visit us at the Schoolhouse to review the journal. Brian earned his Celtic doctorate specializing in early Irish language, culture, and history. He frequently teaches at Cumann na Gaeilge i mBoston (The Irish Language Society of Boston) and has been a Lecturer and Research Associate at Harvard University, Department of Celtic Language and Literatures. He is also on the board of Directors of the Eire Society. Brian was able to begin translating the old Irish and start explaining the contents and references in the journal to us. He is currently doing a more detailed review.
Scituate (the Irish Riviera!) has very strong connections to the Irish — in addition to our Scituate Maritime & Irish Mossing Museum, we thought this would be of great interest to our Sister City Ireland Cork County, and to the Irish Heritage Trail that is being established.  We were just awarded a Community Preservation Act grant to conserve and digitize the booklet so we hope to have it available online to researchers and the public early next year.
Mary Porter, October, 2021