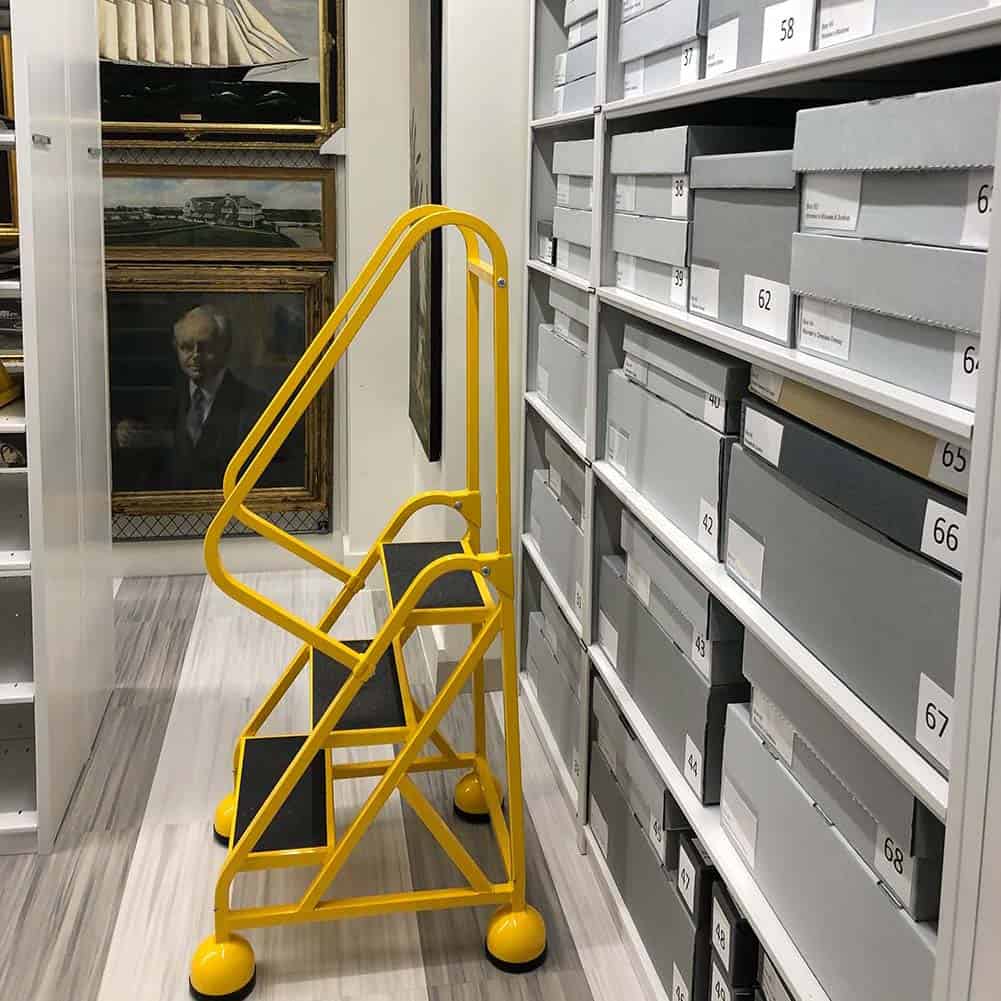 The Society has been collecting Scituate's material culture since its beginning in 1916. The commonplace items of the past give us a way of connecting to and understanding our history by providing insight into the lives of everyday Scituate people. Due to our community's interest in preserving and understanding Scituate's history, and their generosity, we have been kept very busy processing new donations for the Society's collection. Following is a summary of a few of the items received over the last several months: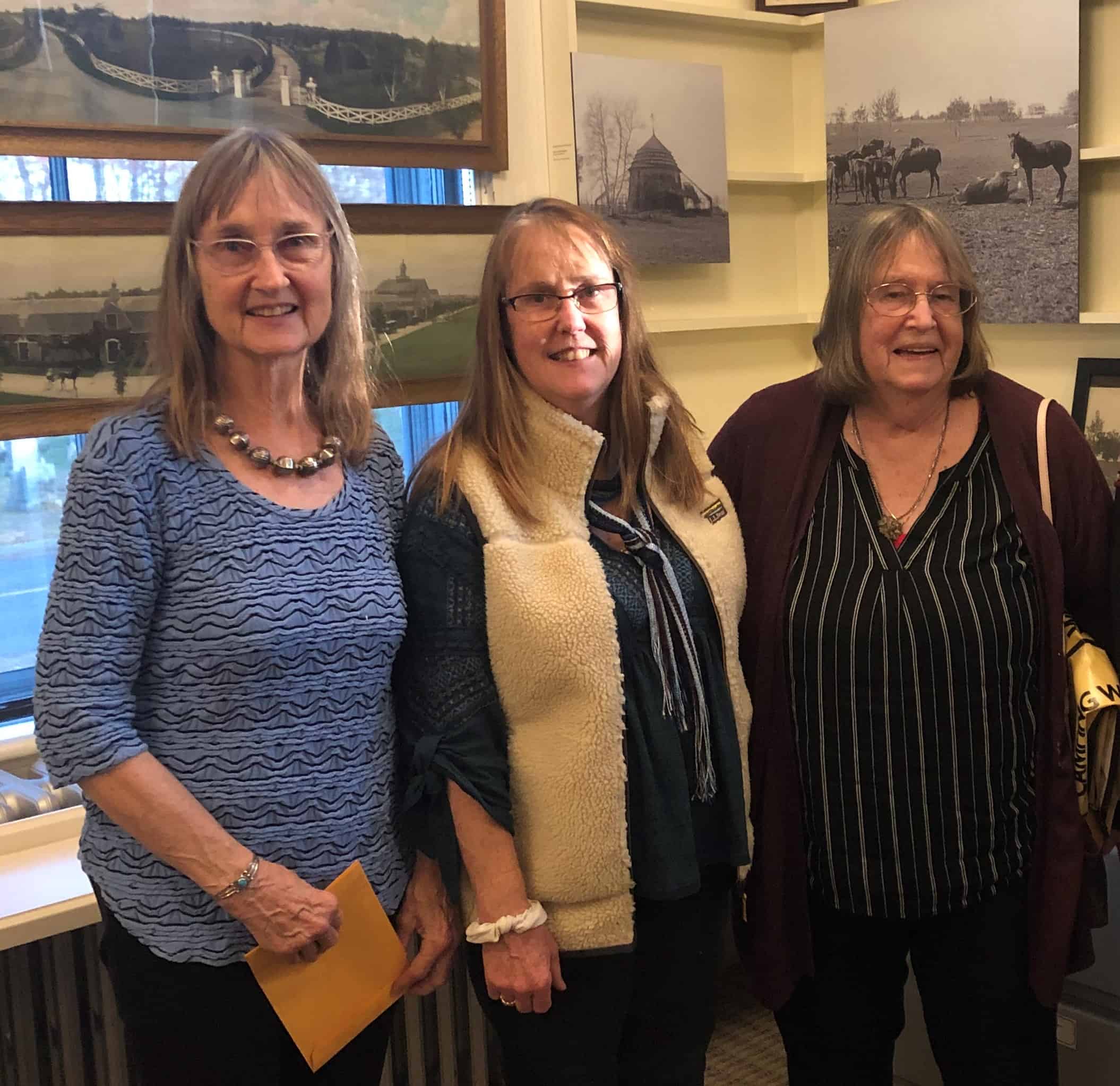 The children of Jane and Mel Atherton, (Janet, Connie, Paula and Mel), donated their parent's WWII correspondence from 1941-1945. Jane was home on Hollett Street while Mel was stationed in Europe and these letters were their main means of communication. The letters reflect the experience of so many Americans during that wartime period. The siblings were unaware of the correspondence until they were cleaning the attic of their parent's home after they passed away. There are 350 letters along with some photographs and memorabilia from Mel's travels during the war. The siblings organized the items by date, digitized them, housed everything in archival materials and then had a copy bound into 2 volumes. The original materials are now stored in our Archives and the bound volumes are in the genealogy room of the Schoolhouse for public access.
Susan Bausch donated a large and varied collection of historic farm tools and household items, including this beautiful c 1900 Boldt Co. amethyst gallon jug, believed to have been made for whisky. Other items include an ice saw that would have been used in a block house, a household ice chest and ice tongs, an apple picker and apple press, different types of shovels and rakes and several other hand-wrought iron tools for blacksmithing. The items will be added to displays at our historic sites at the Cudworth house and barn and the Old Oaken Bucket homestead.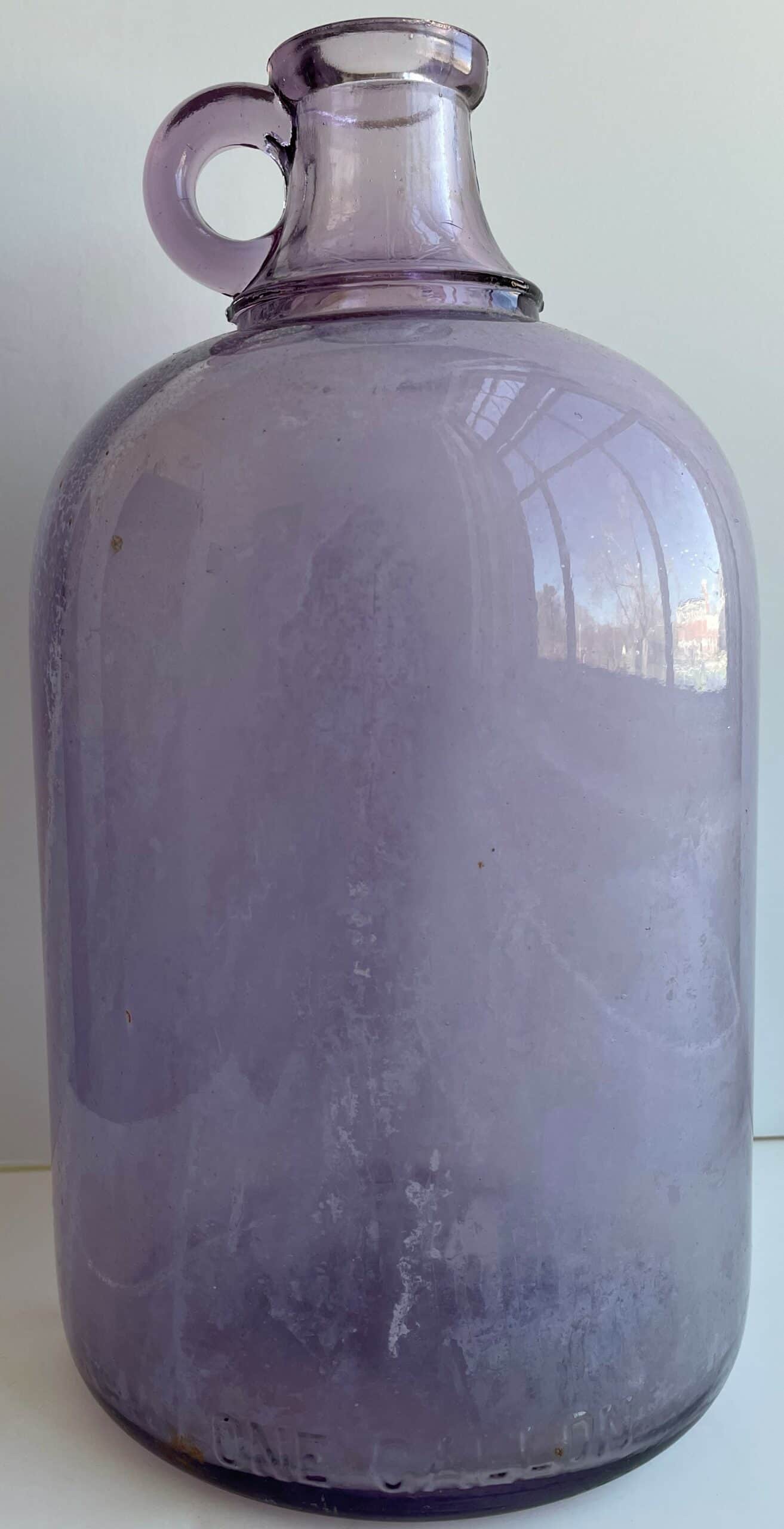 Sue Lovering donated a copy of the South Shore Blue Book and Social Register from 1915. Blue Books were directories of the names and addresses of prominent residents, powerful and wealthy individuals who formed the so-called "polite society." First published in the late 1880's as visiting lists of elite families who called on prominent ladies, they later included information on people's clubs, marital status, yachts and theatre seats. Inclusion in Social Registers was at the whim of the publishers, but back in the early 20th century if you weren't white, Anglo Saxon and protestant you were unlikely to be included. This directory appears to be of Scituate summer residents so we'll have to research more to see what rules may have applied for having your family listed, another interesting tool for genealogy research.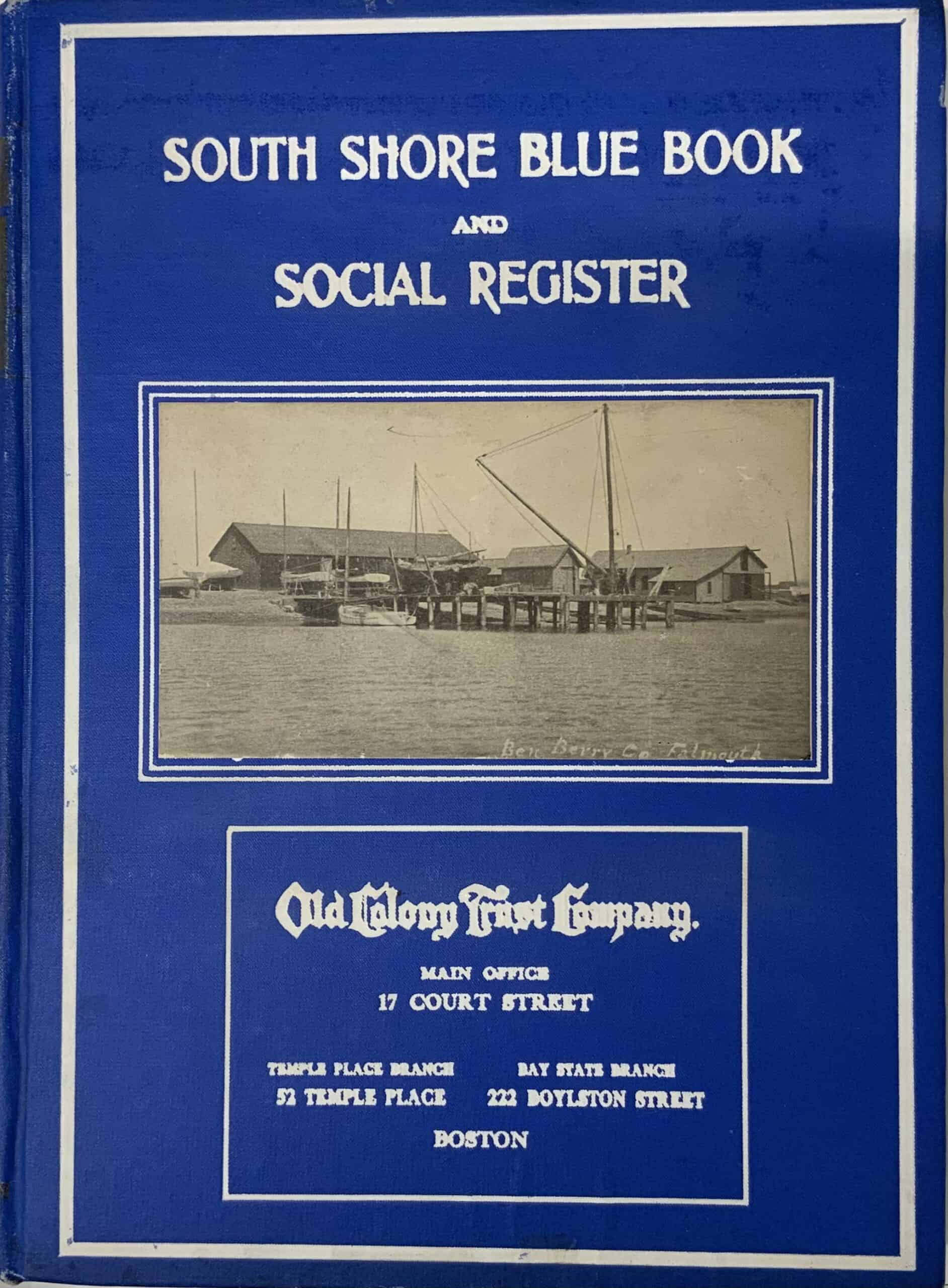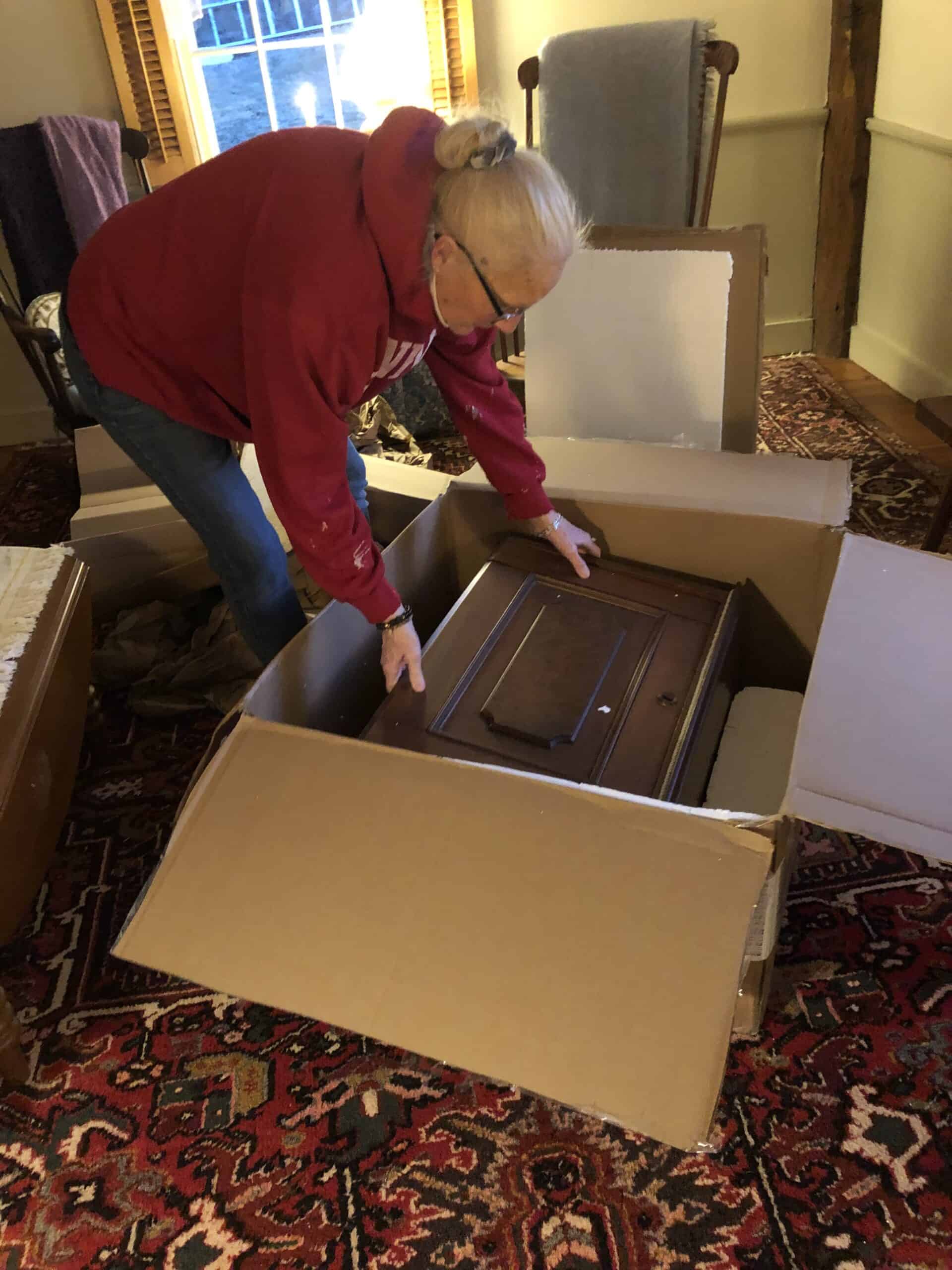 Siblings Barry Edward Smith and Donna Louise (Smith) Cortina, direct descendants of Reuban Bates, the first lightkeeper of Scituate Light and father of Abigail and Rebecca Bates, donated a small writing desk. The desk was found by their ancestors on Peggotty Beach following the historic storm of 1898 and has been with the Bates family since then. It has now been returned to Scituate from its last home in California to be placed on display in the Bates House on Jericho Road. Here Bates House caretaker Jill West unpacks the desk to put it on view for the public at our next Open house day.
Peter Deisroth donated a collection of poems written by Mowry Kingsbury (1875-1928), better known by most people by his nom de plume "Cyrus B. Tucker." The collection was compiled by Mr. Deisroth's wife, who was Kingsbury's granddaughter. Mr. Kingsbury was a native of Wellesley Hills who summered in Scituate. Around 1919 he built his cottage "Driftwood" on Jericho Road and spent more time here. For many years he wrote poems about people and things in Scituate and was widely published in the Scituate Herald. He was known for his cheerful disposition and love of humor. In addition to his writing, he sketched and painted his beloved Scituate. A watercolor he did of "Driftwood," shown here, was also donated along with 3 other paintings.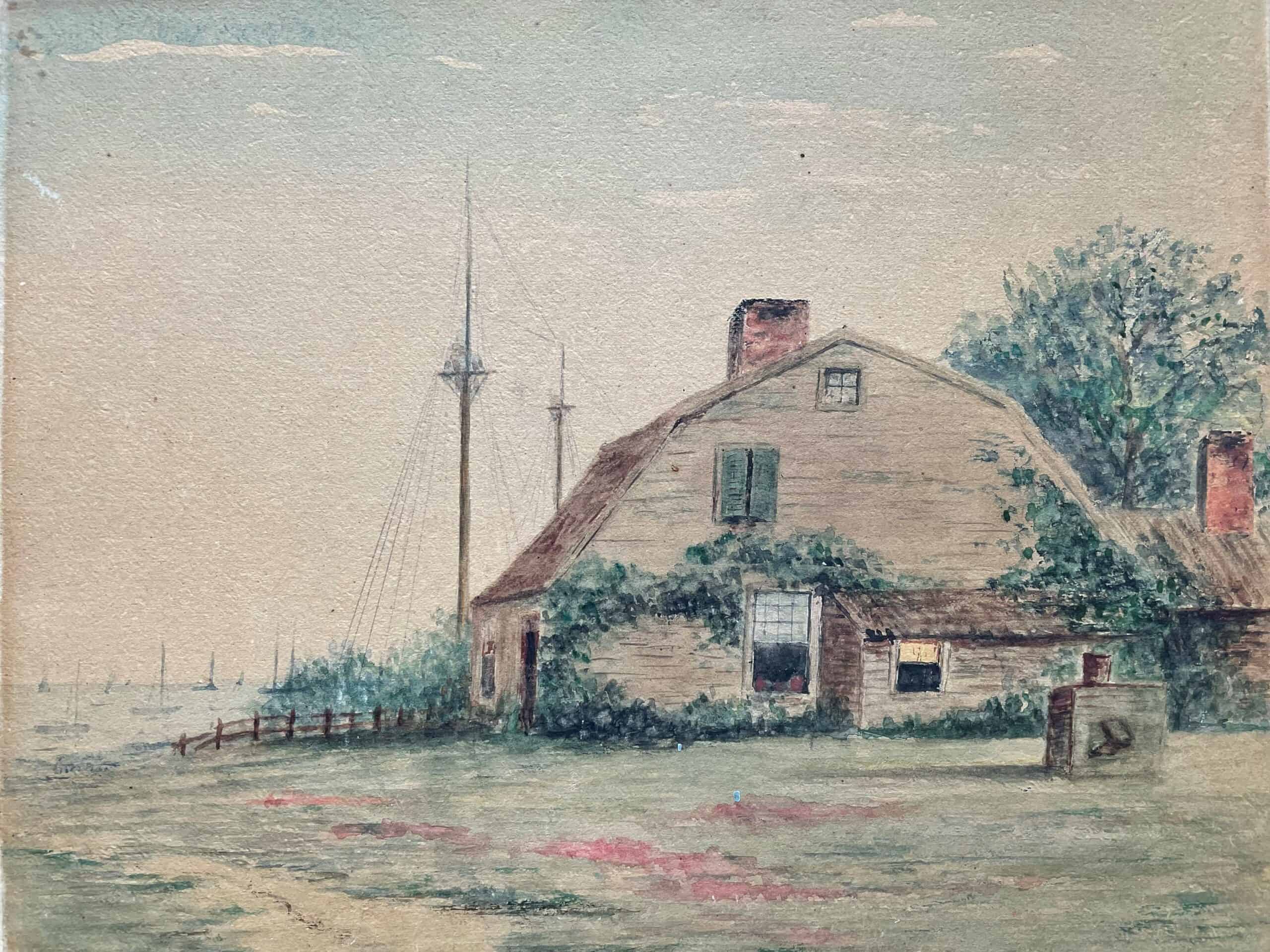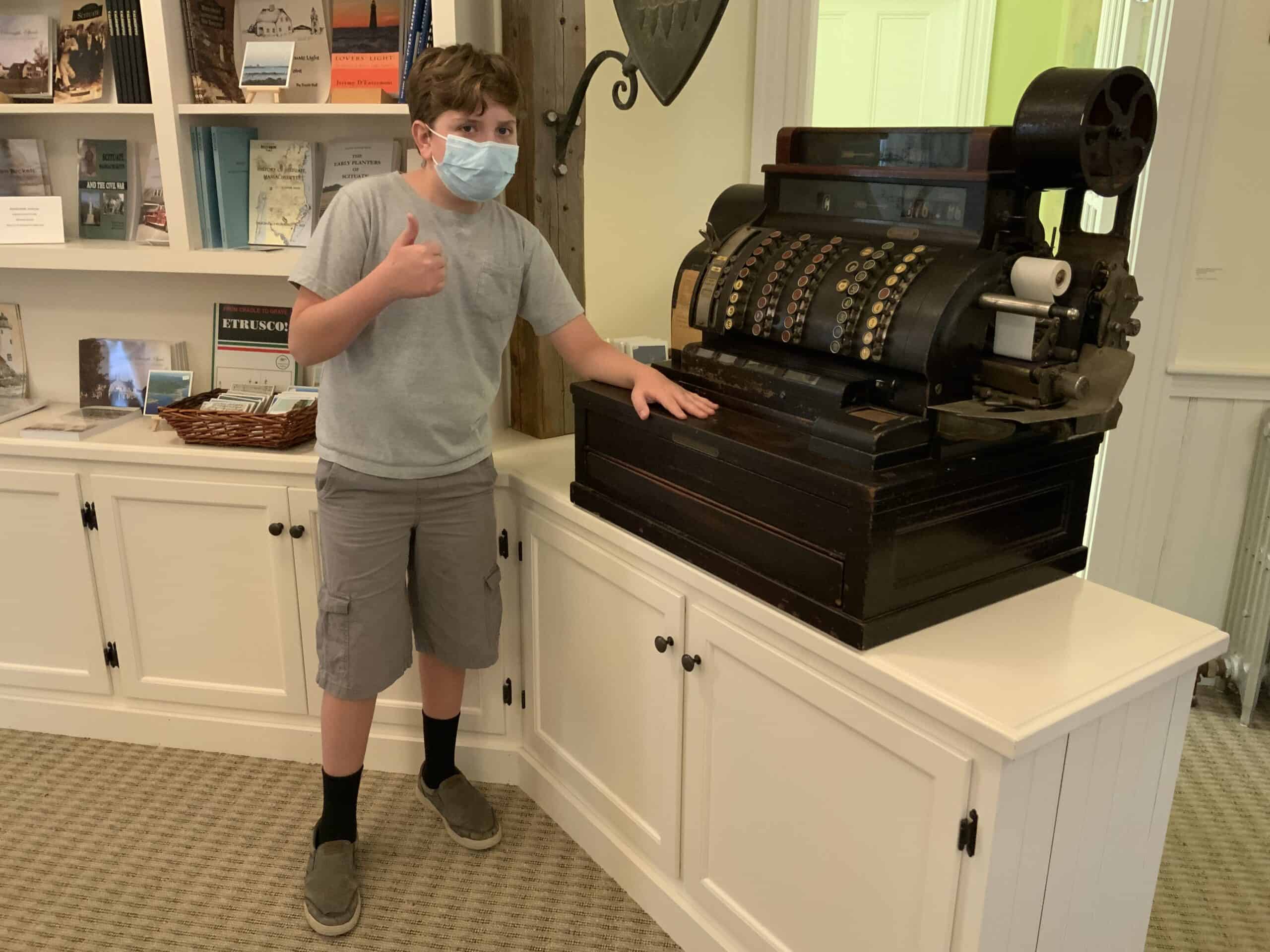 Inly School student William Kaplan completed an internship with us last November. His tasks were to clean and research a cash register that was used in the Welch Company lumber yard. The register is now on display at the Schoolhouse. He researched the history of the Welch Company and the National Register Company and identified the year and make of our model. Maritime & Irish Mossing Museum volunteer Frank Belanger, a former employee of the National Register Company, explained the functionality of the register and shared company materials. We received several donations related to the Welch Company since displaying the register including receipts and invoices from Marjorie Leary and a Welch Company ruler from Bob Chessia.
Other interesting items donated include a very old wooden 'swift' used for yarn winding from Stacy Hendrickson; wood and metal printing 'cuts' with Scituate scenes from Susan Chessia; research on WRUL from Annie Tildon, Scituate Theatre Guild programs from Cohasset Historical Society, an 1894 Scituate directory from David Corbin and a 1749 land grant between Joseph Cushing of Scituate and Nathanael Josselyn of Hanover from Suzanne McDonough.
We thank our community for entrusting us to be the caretaker of these wonderful historic items.
Mary Porter July 2022